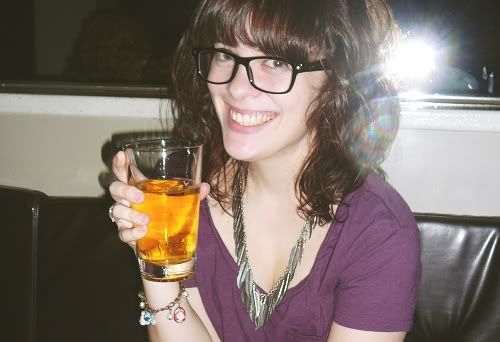 I can think of a lot of things that go well together. Rain and Chopin, apples and cheese, dresses and boots, pancakes and milk, Coke and anything salty... I could go on. Some things are just perfect for each other, whether they were made to be that way or not. And I'd venture to say that these photos illustrate similar complimentary pairs. Purple and yellow, Meg and Greg, Meg and beer.
Admittedly, I did not go well with beer until I discovered another important pairing: beer and Germany.
Germany
, you guys. German beer is where it is at. I hated beer until I went to Germany and tasted my very first German beer,
Bitburger
. Light, refreshing, delicious. And so it was through the perfect companionship of beer and Germany that led me to a companionship of my own: Meg and beer. I actually enjoy beer now than any other alcoholic beverage, barring a friend's version of Vodka Collins, and mimosas. But let me tell you guys. If you're going to be in a bar that serves Bitburger anytime soon, or if you find yourself in a store that sells imported beer, treat yourself to a delicious German delight! You won't regret it. It converted me to the world of beer, and that's saying a lot, as a previous beer hater extraordinaire.
Look. Now I've gone and rambled about beer on my style blog. That's what I get for having no outfit photos, and instead deciding to update my blog at almost 4:00 in the morning with silly photos from last night.
Oh well! I started this blog with a secondary purpose of updating my mom on my life now that I'm far away in Oregon, so we'll just say this one's for her. Look mom, pictures of me and my boyfriend, and beer! ...I should really get to bed.