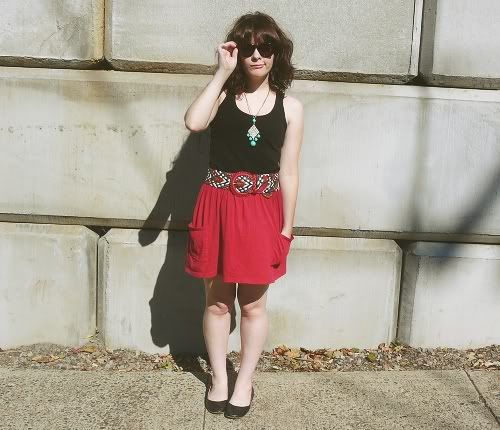 Things are slow here on the blogging end. My wardrobe continues to incite rage in me whenever I attempt to put together an outfit, and yesterday I received yet another rejection from a job I interviewed for. I really need to teach myself not to get my hopes up every time I have an interview; it just feels that much worse when I end up not getting the job.
Excuse me for a bit of melancholy today. I'm a day and a half behind on my lovely anxiety/depression medication, due to the incompetence of Medvantx. Let me tell you guys, if you happen to decide to have your medication mailed to you through Medvantx,
don't do it
. They are a huge pile of fail.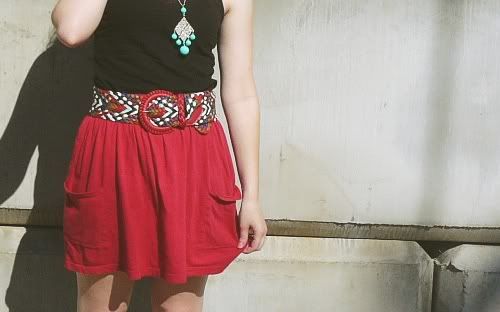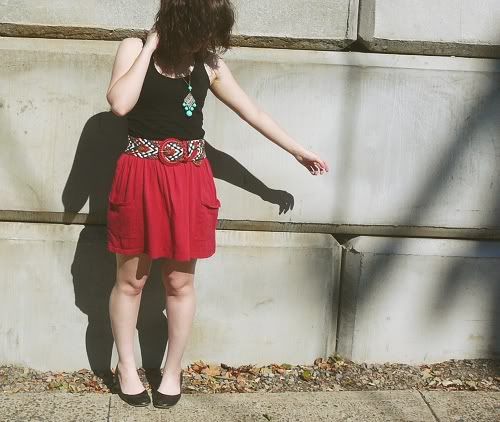 I'm wearing: Target skirt and shoes, F21 belt, Old Navy tank top, great-grandmother's necklace.
If you're wondering why I would talk about my anxiety and depression on my blog, and why on
earth
I'd mention that I take medication for such a thing, well... to be honest, I kind of like to get that out of the way when getting to know people (like you, dear readers). I feel like it's a big part of who I am, and I don't mean that in a totally emo way! I've had chronic, mild depression since high school, as far as I can remember, and anxiety for probably my whole life (thanks Mom! ♥). For a long time, the sadness gave me a gift for expression that I don't think I would have been able to tap into were I a happy-go-lucky social butterfly. Some of my best writing was done while in the throes of depression. Not that I miss it, now that I'm on medication and more functional as a human being (and yes, I still get depressed every once in a while). But it does make me less expressive than I used to be. I think that's why so many great artists and writers were depressed, suicidal, alcoholics, or addicts. There's something about sadness and art that go hand in hand. I kind of like it that way. Maybe I'm just crazy, though.
Don't think I'm being emo, here. Greg would say I am, but he's anti-emo and doesn't quite understand or approve of expressive emotions (and that's part of why I love him)! No, I'm just being reflective. It's my silly style blog, after all! I can ignore clothes and talk about emotions for a while if I want to. What do you think? Does self reflection belong somewhere else, on a livejournal or a private paper journal, and not a style blog? I always like it when people are candid about their lives in their blogs. I'd rather not read something that's tailored to be impersonal and advertisement-friendly. I'd rather get to know the person about whose life and style I'm reading, you know? What do you think?
I have nothing to say about today's outfit. Maybe I'll like my clothes again one day, haha.