New boots, guise! New boots! I've been wanting/needing some boots like these
forever
, and while these aren't exactly the genuine leather ones I had in mind... they were only $17 at Ross, so I'm satisfied. They're about a half size too big though, so I have to wear slipper-socks to make them fit right. Totes worth it. These things are comfy and will go with effing everything this fall!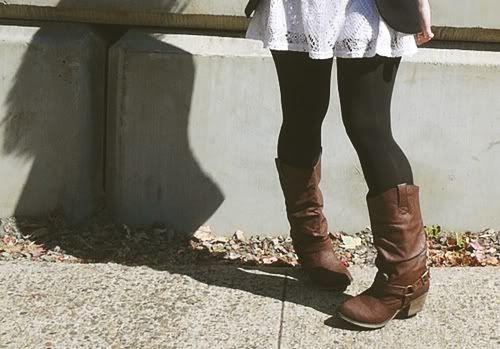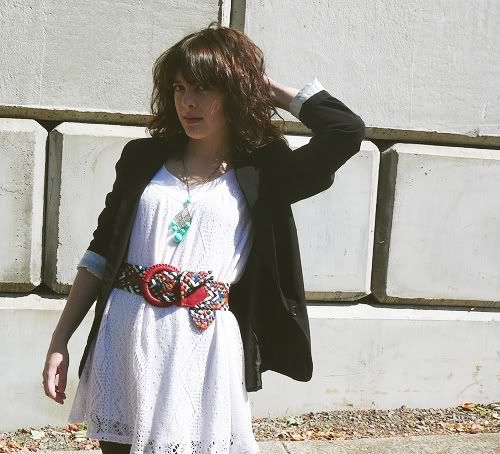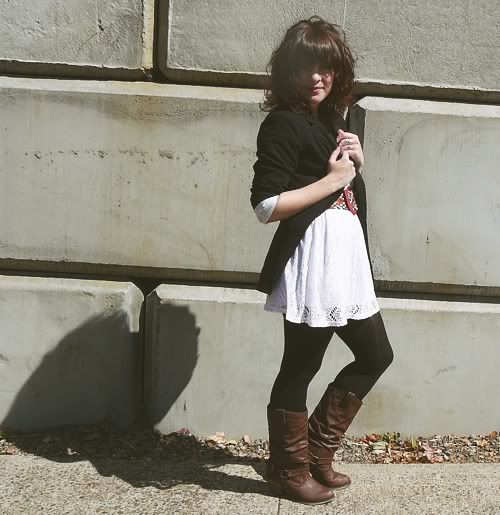 I'm wearing: Target blazer and tights, thrifted dress, Forever21 belt, boots from Ross.
It was not quite cold enough today for this blazer, considering it's only 65 degrees outside, and sunny, but I felt like I needed to do the whole fall thing anyway. I don't know. Let's just say it's a fall "preview" for the ol' blog. Derp.
So okay, who else watches
True Blood
? Did you see the latest episode?! Don't you
loooooove
Eric?? I'm freaking out over here because it's not Sunday yet! And I love every single character in this show; it's kind of ridiculous! Waauugh
True Blood
! Discuss.
Oh, and another show I started watching:
White Collar
. I only watched the pilot last night, but it's super cute! Very fun characters, with a silly odd couple thing going. Plus the thief character is way hot. And it just looks to be a good, cute show. I think I'm gonna convince Greg to watch it with me! I already have
Mad Men
to watch when on my lonesome, and Greg and I are kind of in limbo with our other current shows (
Leverage
and
Fringe
), so we need something new to entertain us.
What fall premieres are you guys excited about in the upcoming months? I'm dying for
Fringe
! I just love it when all the shows start up again in the fall. I love fall. Whee!
Oh and P.S. I got another job that isn't with Netflix, it is actually a job I want, and it is mine! w00t!