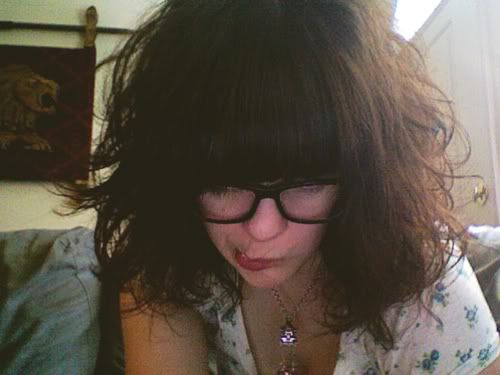 Guys! Guys! I'm here. I'm just busy waking up early, getting unexpected job interviews, and then having panic attacks in the bathroom. Welcome to Crazy Neuroses, population: me. It's okay, though. I lived through the short-notice interview, although I've no idea how I did. It was the oddest interview I've ever had.
Tomorrow, I promise, I will post an outfit. Today, however, you'll have to make do with the above PhotoBooth photo of all of my abundant hair. I'm also working on a book lately, which is distracting me from obsessive blogging.
If you want to learn more about the writing process, Trek in the Park, or whatever pops into my head at any given time, follow me on:
MY TWITTER!
If you want to ask me random, silly, personal, or otherwise exciting or rude questions, visit my:
FORMSPRING!
And finally, if you want to troll my old (and some new) art (mostly of elves and/or dorky fantasy characters), check out my:
DEVIANTART GALLERY!
That is all. ♥