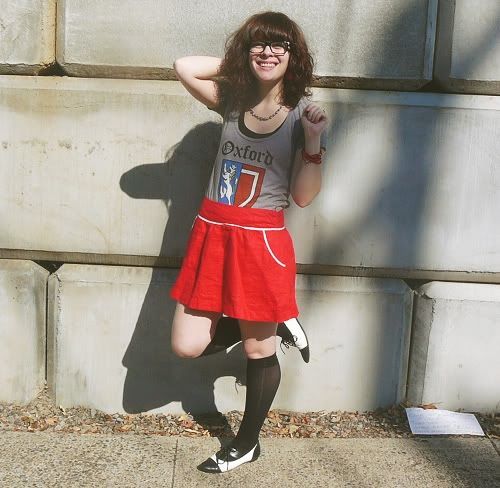 Hey look, it's my 50th post! How exciting! I can't believe I've taken that many pictures of myself. Ridiculous how that happens. I feel like I should somehow celebrate this milestone, but I'm feeling lazy, so maybe we'll save the celebrations for my 100th post instead. Good idea, Meg. Thanks! (Also I look like such a goob when I smile! Eeesh.)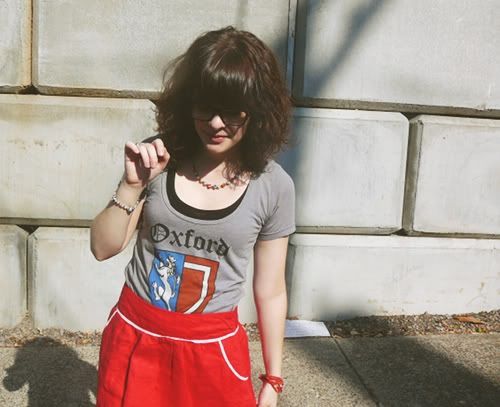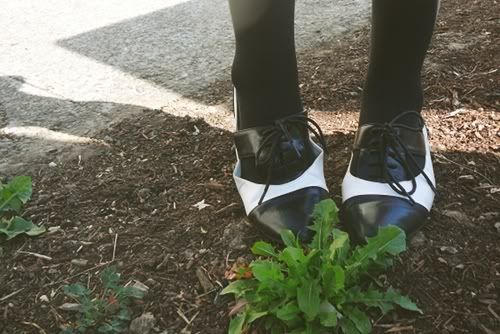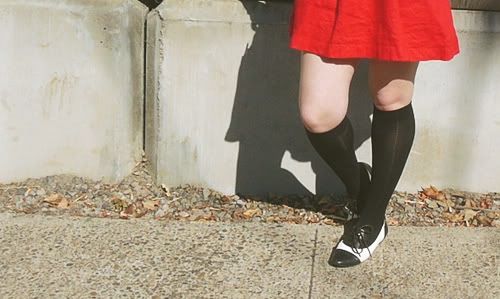 I'm wearing: F21 skirt and tee, Target socks, Aldo shoes.
Ah, my Oxford shirt. I don't think I've worn this yet for the bloggiwog. I ordered it from Forever21 when I lived in Montana, because when I saw it on the website I knew I had to have it. I mean, it's Oxford. I'm not sure if you know this (I'm not sure why you
would
), but I am a huge Anglophile. A
huge
Anglophile. It used to border on the ridiculous, but I feel I've done a teensy bit of growing up, and thus my obsession has died down. Don't let that fool you, though. I definitely have London-inspired earrings with double-decker buses and Union Jacks on them, and a red phone booth keychain, as well as an unhealthy obsession with all things
Doctor Who
, Jane Austen, and English Victorian poets. I used to drink only English Breakfast tea, and I had this alter ego that was an English elf from alternate history... and... well now I'm just talking too much. Awkward face. Suffice to say, I love England! Harry Potter! King Arthur! I want to live there. The end.
Except, not the end! Ha. I need advice. I have two interviews tomorrow, both for call centers doing customer service type stuff, so what tips do you guys have for me? I don't know much about call centers, so any suggestions for qualifications I should emphasize in my interview would be great. ♥